What's New
Upcoming classes, events and meetings
24/7 Access to Care Line
This service remains open and serves those experiencing a mental health or substance use crisis. The number is 1-800-849-6127. NC Residents are also encouraged to call 211 for questions about food assistance or other resources.
Wellness Action group
This group meets virtually from 2-3:20 p.m. on the 2nd Thursday of each month. Members are involved in a community wellness challenge, food security, access to healthcare, and diabetes prevention strategies.
Next Meeting will take place on August 11, 2022. Call 828-452-6675 for details.
SUBSTANCE USE
prevention alliance

This group meets virtually on the second Thursday of each month at 3:30 p.m. Members focus on overdose prevention, treatment and harm reduction, youth substance use prevention, and barriers to care.
Next Meetings will take place on June 2, 2022 at noon (special session) and August 11 (standard time). Call 828-452-6675 for details.
Great by Eight Early Childhood Initiative
The next meeting is to be announced. Call 828-452-6675 to be added to the e-mail list.
Haywood Connect
This group meets on the second Monday of the month. This group meets virtually. To learn more about adverse childhood experiences and resilience, please click here.
Next meeting is: July 11. Call 828-452-6675 for details.
Health data for
haywood county
Haywood County's 2021 Community Health Assessment and 2020 State of the County Health Report can be found in the following places: the ''programs and projects'' section of this website, each Haywood County Public Library (pending delivery) and the front desk of Haywood County Health and Human Services (HCHHSA). The 2019 Community Health Improvement plan is in the ''programs and projects'' section of this website.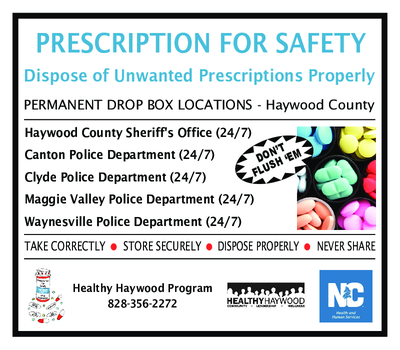 The Haywood County Crime Stoppers telephone line is available 24 hours a day, seven days a week by calling 1-800-92-CRIME (1-800-922-7463) to leave a message about criminal activity, wanted persons or other information. You may remain anonymous if you wish.
Haywood County HHSA is an equal opportunity provider and employer.
Document Actions